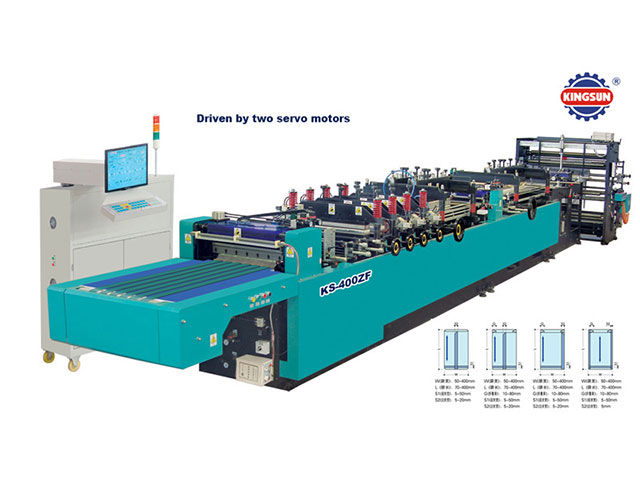 KS-400ZF Middle-sealing,lateral sealing,4 laterals sealing high speed automatic bag making machine
This model center sealing plastic bag makeing machine is specially designed for making center seal bag, large size pre-formed bag for food or daily use goods, it is ideal high grade plastic bag manufacturing equipment for flexible packaging company.
KS-400ZF Model Center-sealing,lateral sealing,4 Laterals sealing high speed automatic bag making machine.
Application range
Base material: various compound films or co-extruded films.
Roll folding: max width: 850mm, max diameter: 600mm.
Adaptability:
Bagging speed: 180 parts/min (mechanical design speed), approx. <40m/min.
Bagging width: max width 400mm.
Bagging length: 30-400mm, When the bag length is above 400mm, it will change into multiple feed.
Notes: The actual operation speed will reduce for the reason of difference of the bag type and material.
Unwinding mode:
Flat roll reel: put the air shaft horizontally.
Control: tension is automatically controlled by dancing roller, magnetic powder brake displacement sensor.
Driving mode:
Feeding traction: Driven by AC servo motor.
Upper & lower sealing press: AC electrical motor or AC servo motor.
Functions:
Heat seal: speed of heat seal, duration of heat seal, proportion of heat seal acceleration etc. (main servo motor)
Temperature: 0~300℃,contact-free automatic control, CRT displaying.
Automatic count: presetting is available.
Punching device: time can be preset, continuous or interval punching is available.
Working mode: printed, non-printed.
Mode of multiple conveyances: twice to six times conveyance.
Measurement for length: distance between color scales can be measured photo-electrically.
Selectivity: feeding without movement, upper & lower regulating trimmer can be selected.
Message alert: Lost of photo-electricity, lost of temperature, unwinding alarm、servomotor alarm, tension alarm and auto-switch off the machine.
Electricity-use configuration:
Feeding driving servomotor:1.0 kw x 2=2.0kw
Upper & lower driving motor:3.0 kw x 1=3.0kw
Warping traction motor: 0.55 kw x 1=0.55kw
Middle-seal device: 2.0 kw x 1=2.0kw
Lateral heat seal device: 4.0 kw x 3=12.0kw
Plastic Middle-seal:2.0 kw x 2=4.0kw
Control system and others:1kw
Total :Approx. 25kw
Gas pressure:0.6MPa(6kgf/cm2)
Cooling water: Approx. 15L/min
Gross weight of equipment :Approx. 4T
Dimension(L X W X H):10000 x 1300 x 1450mm
Control mode:
Adopts the industrial control equipment, CRT displayer or touch screen.
Adopts double photoelectric control.
Notes:
Our factory can special made the bag machine according to actual bag forms and sizes.
Welcome to our website! Please feel free to send us your inquiry in detail, we will reply you as soon as possible.