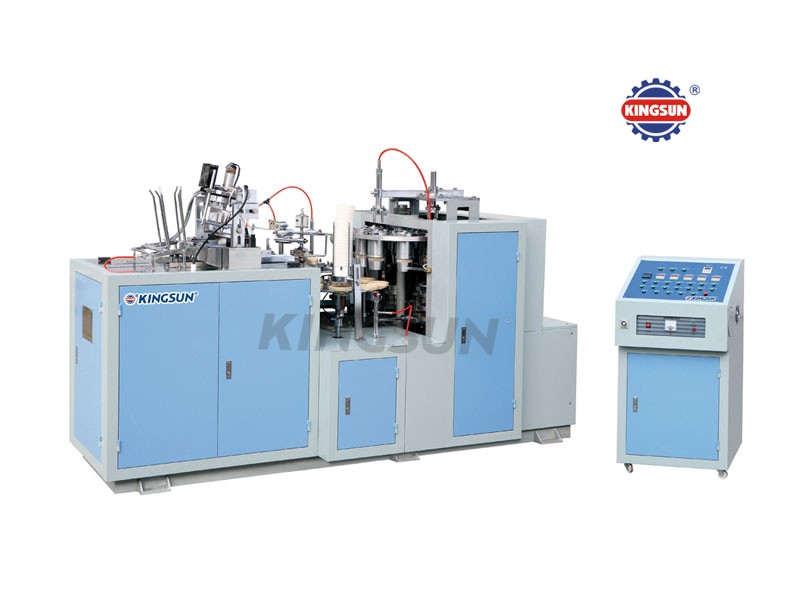 JBZ-S12 double-side PE coated fully automatic paper cup forming machine
JBZ-S12 double-side PE coated automatic paper cup forming machine is a multi-station full-automatic machine for producing double-sided PE coated drink cups, ice cream cups or conical vessels of other food containers through continuous process of paper feed
JBZ-S12 double-side PE coated automatic paper cup forming machine
JBZ-S12 double-side PE coated automatic paper cup forming machine is a multi-station full-automatic machine for producing double-sided PE coated drink cups, ice cream cups or conical vessels of other food containers through continuous process of paper feed, ultrasonic medium welding, tube forming, cup rabbet lubrication, oil injection, bottom flushing, duplex bottom heating, bottom knurling, upper mouth hemming and finished product stacking. Because of ultrasonic seal technology, the product is suitable for double-sided PE coated paper and full printed drink cups, ice cream cups and other conical vessels.
Main Features:
1. Adopt ultrasonic technology sealing, which ensures high seal strength and handsome appearance.
2. Precise box type indexing cam structure, the parts all adopt standard production, have high generality and good exchange performance, and easy for equipment maintenance.
3. The paper holder is provided with paper feeding detection function, so that it will alarm automatically when the paper is less than a certain amount. (Optional according to the customer request)
4. The heat seal barrel forming part is provided with non-cup barrel detection, alarming and sopping functions, which enhance the automation degree of the machine. (Optional according to the customer request)
5. The bottompunching part is changed into mechanical probe type detection which ensures the detection precision and the pass rate of finished products.
6. The machine adopts high-position stopping device, so that the machine always stops at the highest point, the mold and the heating furnace are fundamentally separated and the paper cup is prevented from being burned.
7. The large vertical shaft of the machine adopts oil tank lubricating, which ensures that the vertical shaft is soaked in the lubricating oil and is not damaged after long-time running.
8. The company has improved the rolling part, the bottom punching part, the heating part, the rolling wheel and paper cutting, being capable of producing thick paper which is more than 300g/
㎡
, and is free of water seepage and water leakage.
Main technical specifications:
Model

JBZ-S12

JBZ-S16

JBZ-S22

Size of cup

6oz,8oz,12oz

12oz,14oz,16oz

16oz, 22oz

Paper material

Single-sided, double-sided PE coated paper

Outer diameter of cup rabbet

50-95

50-95

50-95

Outer diameter of cup bottom

35-70

35-70

35-70

Cup height

50-120

100-150

100-175

Bottom depth

≤10

≤10

≤12

Conicity

2-8°

2-8°

2-8°

Rated productivity

40-50pcs/min

35-45pcs/min

30-40pcs/min

Power supply

380V 50Hz

Total power

6.5KW

8KW

Weight

1600Kg

1700Kg

1900Kg

Packing (LX W XH)

280×135×180cm

80×75×130cm

300×145×190cm

80×75×135cm

330×145×200cm

80×75×135cm

Air Pressure

0.2m3/min;0.6MPa (provided by customer)
Welcome to our website! Please feel free to send us your inquiry in detail, we will reply you as soon as possible.